Photo by Max Vadukul
In the Amplified episode featuring Serena Kerrigan, she mentions that she "loves everything Beyoncé does . . . everything she touches turns to gold." Kerrigan talks about how she doesn't believe in God, but if there was something supernatural out there, Beyoncé would be the closest thing to it. Kerrigan's not the only one who is very inspired and enamored by Beyoncé.
Photo by Max Vadukul
Let's take a trip back to the end of 2006 when Beyoncé released her second album B'Day. Her songs on the album explore adult themes and we see a woman like Beyoncé, exuding this sexual energy and confidence, which was scandalous in its time. Beyoncé paved a path towards a more sex-positive outlook, giving women the chance to be publicly sensual. In these posts, our goal is to look at albums and artists through the lens of how music can be both healing and stimulate emotions in listeners. Breaking down and analyzing how Beyoncé's themes of sexuality, confidence, and power in this album can contribute to why she is such a staple in the music industry today.
"Irreplaceable" was a bop in of itself. Beyoncé conveys this progression of emotions via the lyrics after a bad break-up. She starts the song with a triplet "to the left, to the left," and begins the next stanza with "everything you own in the box to the left." These direct and repetitive instructions depict the cold feelings that Beyoncé has towards her now ex-partner. She reminds him that "in the closet that's my stuff, yes, if I've bought it please don't touch." She's letting him know that he is no longer welcomed in the space, and that anger is highlighted well. She's exerting her independence from him because she didn't need him to buy all her stuff and so she doesn't need him now. Not to mention, this man's insistence on bugging Beyoncé is a form of denial on his part because, in the music video, this man is literally following Beyoncé around like a puppy dog trying to convince her to let him stay.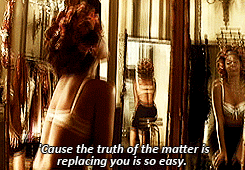 We see this a kind of confidence in herself and telling off men who are bugging on her often in her music career, including in the Destiny's Child song, "Bug A Boo." She goes on to point out that he can still complain about how she's such a fool, but could he "walk and talk at the same time" because she wants him out. The man, in his bargaining, then tells Beyoncé that "[she'll] never ever find a man like [him]." We see that anger morphs into confidence because she's the one who's irreplaceable because he's not seeing her value so she tells him off saying that she "can have another you in a minute, matter fact, he'll be here in a minute."
The proficiently empowering and catchy hook, "you must not know 'bout me, you must not know 'bout me," made its mark with the audience in 2007 because according to Billboard, the song was number one on the year-end charts. She had this upsetting situation of a break-up and was able to turn the single into a piece of self-love and confidence. This kind of confidence and power that Beyoncé portrayed in this song secured her future of being seen as an iconic figure and musician in the media.